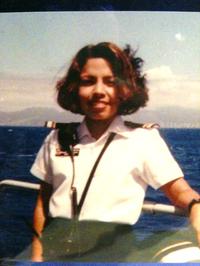 It's not every day folks in Oregon have the opportunity to vote for a former officer in the Canadian Navy, but that's who's on the ballot in Beaverton School District 7 in the May primary. Dr Huma Pierce is not only an ex-officer, but a chiropractic doctor, a businesswoman, and a mom. She is also a first-time political candidate. But it was her tour of duty in the Persian Gulf while she was still in college that set the stage for her later ventures.
Pierce was born in London to Pakistani parents. The family moved to Canada when she was a toddler, and she grew up in a small town north of Toronto (yes, just like Scott Pilgrim). She attended the University of Toronto, where she joined the Canadian Navy and served as a reserve officer. In 1997, she did a tour in the Gulf with the PACMES 97 mission. Her duties including maritime surface warfare and serving as an interpreter: she speaks French, Hindi, Urdu and "a little Punjabi". The interpreter work was the most demanding, not just because she was responsible for tracking, hailing and directing ships bringing supplies to Iraq from India; she did her work from a Navy ship that was 200 nautical miles from the actual boardings.
The Americans would have a helicopter project my voice to a ship, and I'd be 200 nautical miles away. The people on the ship thought I was on the helicopter. I would cut out and talk to the airmen and say, "What are they doing now? What are they doing now?" It was crazy. It was a really incredible experience. The ultimate ability to learn how to work with people with different languages, how to work in a stressful environment, and how to make friendships that would last a lifetime.
The high point of that tour, which occurred before she graduated from college, was being thanked by the captain of the USS Fitzgerald. His trust in her to work unsupervised with his helicopter crew allowed him to focus fully on an incident with an Iranian vessel.
Along with the military action she was involved with during her tour, one non-military event occurred that would change her life. She spent many 18-hour days on-duty, which led to inevitable back pains. One day, a ship mate offered to "crack" her back, a process she had never heard of. But after that first amateur adjustment, with her back no longer hurting her and able to breathe freely, she had found the path for the rest of her life. She spent her few minutes of daily online time investigating "cracking" and chiropracty. Then, after her military service was completed, she headed to the New York Chiropractic College in Seneca Falls to begin a career in medicine.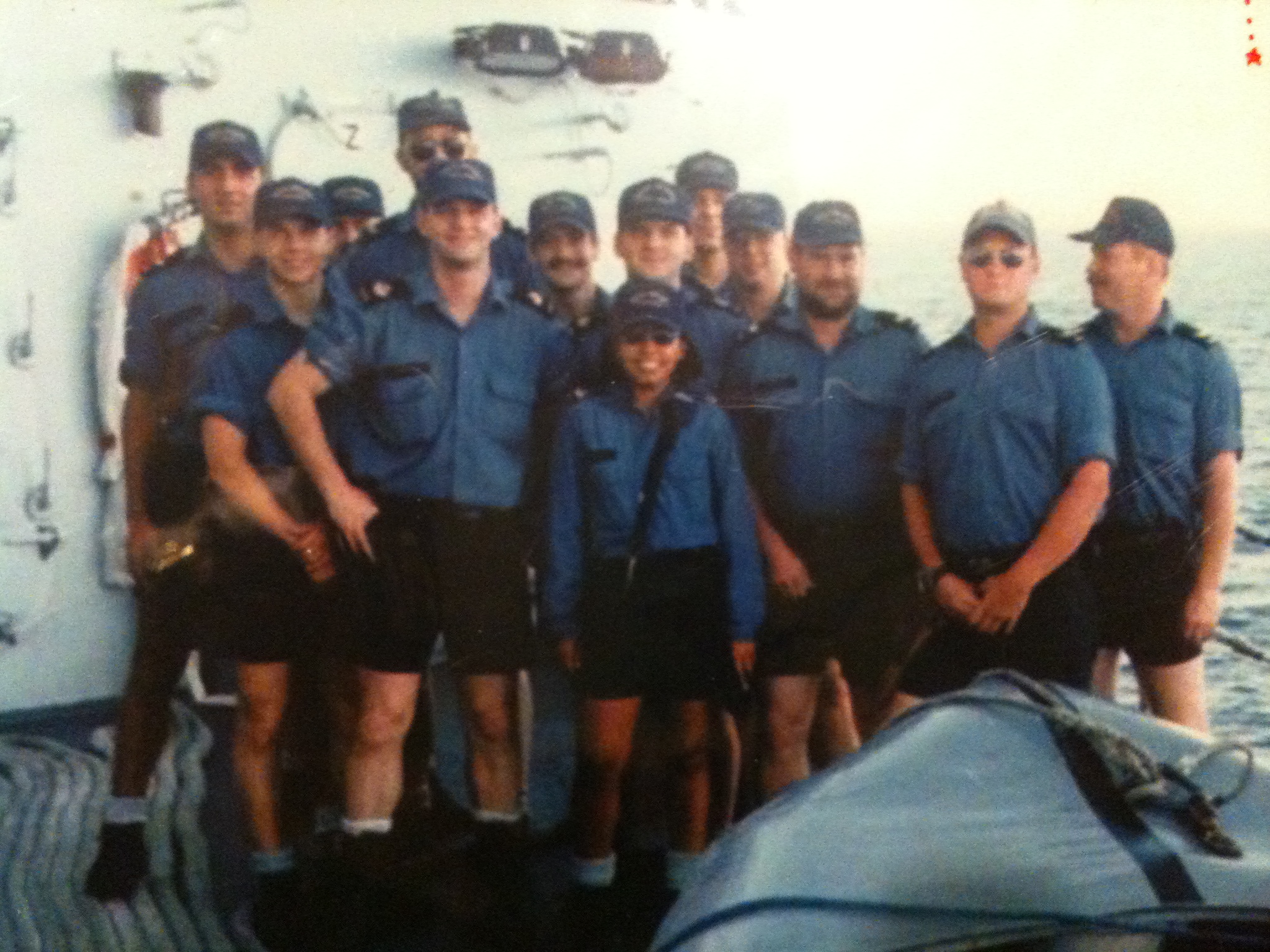 At the college, she not only got her medical degree; she met and married Christopher Pierce. After they graduated, they cast around for a place to begin their family and professional lives, and decided that Portland, Oregon, was the place to be. They served internships in East Portland and then opened their first practice in Raleigh Hills. Today, they have her office in downtown Beaverton (although Christopher is "The Bicycle Chiropractor" on SE 8th in Portland, leaving the Beaverton office mostly in Huma's hands). They've lived in Beaverton for two years now.
Pierce and her husband are energetic political activists, as those who know them will attest. In 2008, they both cut back work hours so they could campaign for Barack Obama. That year, she was elected to be a delegate to the Democratic convention in Denver (with Christopher accompanying her). She put so much time and energy into the Obama campaign in the Portland area that when he made his famous Waterfront Park appearance in front of 75,000 people, Pierce was selected to introduce Earl Blumenauer prior to Obama.
And as someone who was part of that crowd on that day, I can vouch: she pulled it off with no sign of stage-fright.
Pierce's decision to run for the Beaverton School Board has been building for many years, long before she and Christopher became parents and had to deal with issues stemming from that. Again, it was a personal experience that led to the decision. This time, however, it was an experience that occurred over many years.
After opening her first practice in Raleigh Hills in 2003 , the Pierces joined the Beaverton High School Health Career Program. For the two doctors, the program was a winner — so much so, they hired the first student to pass through their office in the program, and she worked with them for three years.
"That was my biggest exposure to the Beaverton School District," said Pierce. Since 2003, they have had four-to-seven HCP students in their practice each year; most of them, she said, move on to a health career. Pierce still gets cards and letters from kids who've been in the program at their office over the eleven years of participation. But she has noticed a major change in the program, and it's this change that is one of big reasons she's running for the school board.
From the year 2002 to the year … 2009, the quality of questions that I got in the office … every kid asked amazing questions. … They asked, how does this work? Why does this work? They would ask everything, and we would get into the neurology of things. That was kind of amazing to me. It's what spurred me to continue [with the program]. … Everything changed after 2010. … [I]t was really a 50-50 split. There's no demographics with it; there's no color associated with it. … 50% of the children were similar [to the earlier kids], and 50% of the kids didn't ask any questions. Or were afraid to. Or they didn't formulate them the same way. I'm not saying everyone has to ask the same questions; I'm just saying they have to ask questions! How do you learn if you don't ask questions?
This situation remained unchanged over the next few years, so she began researching what might be going on. That was when she began to learn about the cuts being made by the Beaverton School District and the resultant over-crowded classes.
"If I'd been in a calculus class of 60 kids," she said, "I'd never have become a doctor."
In addition to watching the results of schools cuts and over-crowded classrooms in the kids in the Health Career Program, the other major factor spurring Pierce to run for office has been parenthood. In 2008, the family, including their then-two-year-old son, took a vacation to Japan. Since then, her son has loved "all things Japanese". Unfortunately, when it was time for him to begin school, there was nowhere in the Beaverton schools for him to learn Japanese or Chinese (and mastery of multiple languages is important to Pierce, who describes herself as a "world citizen"). So he's attended The International School in downtown Portland for the past four years and will do so through fifth grade. After that, the family hopes he's able to attend International School of Beaverton — but that will depend on a lottery for one of the open slots.
"More money, smaller class sizes and more complete programming" would summarize Pierce's concerns about Beaverton schools, but there's another component that is driving her: "Teachers need a break". Instead of the relentless criticism of teachers from anti-public sector activists, opportunistic right-wing politicians and frustrated parents, teachers need the kind of support and respect Pierce observed growing up in Canada:
If you come out of high school in Canada and say, I'm going to be a teacher, people say, Wow, she's so giving; she's going to be a teacher. The reverence for doctors and teachers is the same.
Pierce said that, in Canada, respect has a practical asepct: Teachers are reviewed not only for their skills and effectiveness but also on whether or not they are happy in the career. If a teacher decides this is the wrong job for them, they are not cut loose but given practical assistance in transitioning to a new career.
The respect Pierce saw teachers given in Canada is something she feels local teachers deserve. Instead, they are given fewer resources and told to do more and more work, much of it unrelated to teaching. "Teachers are not poorer quality, just being asked to do too much."
Money, of course, is the root of many of the problems in the Beaverton School District. Unlike some who run for public office, Pierce doesn't accuse the District of wastefulness but instead praises their professionalism. Measure 5 and subsequent legislation are the main culprits, but the recession made that bad situation far worse. And because the Beaverton School District chose not to make cuts during the worst of the recession, relying instead on savings it had in place, the District is now facing the same kinds of shortfalls other districts have already gone through. The cash reserves are gone, and the district's looking at a deficit of $37 million this year and $23 million in 2014-15. To address this shortfall, massive teacher layoffs have already occurred and the District is asking ratepayers to approve a local levy in the May election. As Pierce notes,
[The levy] is a tourniquet, for sure. … This is how everything is set up after Measure 5. You're stuck. You cannot get money outside of a levy. … It's not going to stop the bleeding completely, but if we [pass the levy], that's … going to buy us time.
So, given that neither Beaverton nor the state is going to be able to fund schools adequately in the coming years, what does Pierce suggest be done? The primary step that can be taken, she believes, is to involve the entire community in the local school system. Parents, of course, have to be part, but businesses, too, can be part of the fix. Her own experience with the Health Careers Program has demonstrated that if students get the chance to participate in a vocational program of some kind, they're likely to pursue that path following high school. She'd like to see the district become more vocationally focused, utilizing resources such as the Pipefitters' union training facility in Tualatin as well as grants from BOLI.
Two more quick notes from our interview:
She is not a fan of how proficiency testing was introduced. While it may be a good tool, she believes it needed to be phased in. Students that were switched from traditional to proficiency testing suddenly found they had gone from being successful to being graded as failures. "In high school, you need consistency to get to college." She would support a return to the previous regimen to help the kids already in high school finish and move successfully to their post-secondary lives.
Armed guards in Beaverton schools are not necessary. Not only is Beaverton already a safe city, she says, the local police are already a part of the community and provide tremendous assistance to the schools. What is missing, she thinks, are counselors. The loss of those professionals means even less opportunity to identify troubled youth in high school before they reach the age where real problems manifest.
I should have stated at the top: Huma Pierce and her husband, Christopher, have been friends for years. Her energy, brains and commitment, I believe, would be of value in any elected or appointed capacity. She's served on the Oregon Board of Chiropractic Examiners. She's twice been a delegate to the Democratic National Convention. She knows how Oregon politics works, the relationships that are key to success. She has, to use an apt cliché, boundless energy. I don't live in the district, so I'm not saying she's the person to vote for. But I would say to anyone who does live in the district:
Why the hell wouldn't you vote for her?