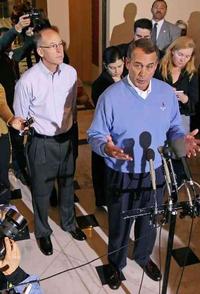 Oregon Congressman Greg Walden is in a tough spot. He's the top campaign guy for the Republicans in the U.S. House. And that means that he's got to placate the corporate guys that pay for GOP campaigns while also mobilizing the Tea Party folks that do all the grassroots work.
And that tension spilled out into the open last week when the Daily Beast reported on a high-priced lunch in New York City.
On a Monday last month, Rep. Greg Walden, chairman of the National Republican Congressional Committee, met with some top GOP donors for lunch at Le Cirque on Lexington Avenue in Manhattan. ...

Why, they asked, did the GOP seem so in the thrall of its most extremist wing? The donors, banker types who occupy the upper reaches of Wall Street's towers, couldn't understand why the Republican Party—their party—seemed close to threatening the nation with a government shutdown, never mind a default if the debt ceiling isn't raised later this month.

"Listen," Walden said, according to several people present. "We have to do this because of the Tea Party. If we don't, these guys are going to get primaried and they are going to lose their primary."
And not just anybody -- but Walden himself could get primaried.
Now, it's worth noting that an NRCC spokesperson denied that Walden said anything about the Tea Party. But that denial itself speaks volumes. It's an example of exactly the sort of careful line that Walden is tip-toeing along.
As the government shutdown heads into its second week, even Congressman Walden -- #5 in the House leadership -- is acknowledging that the House Republicans are poised to lose. He told the O's Jeff Mapes last week that it is "unlikely that Obamacare will be eliminated based on what we're seeing play out."
Speaker Boehner may be talking a brave game in public, but Walden is his campaign chief and his go-to guy for big problems.

Which makes the report from the Mail-Tribune's Paul Fattig this weekend so very important. You see, Walden acknowledged that calls to his office have turned against the Republican strategy:
Before the shutdown began Tuesday, opinion sent to his office was split over whether stopping the health care program was worth a government shutdown, Walden said. "Once there was a shutdown, the calls shifted against that," he said.
And it's not just Walden's home district. It's all across the country. On behalf of MoveOn.org, a poll conducted by PPP found that in 17 of 24 GOP-held districts, the government shutdown has shifted public opinion against the incumbents. If there's anyone who is attuned to the looming electoral disaster, it's Greg Walden.