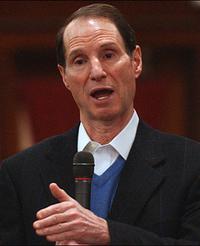 Officially, no one is saying anything. But, according to Politico, retiring Senator Max Baucus (D-MT) told colleagues that President Barack Obama intends to nominate him as Ambassador to China. And as a result, he'll be giving up his Senate seat - and his chairmanship of the Senate Finance Committee - a year ahead of schedule.

Update, 8:30 a.m.: President Obama has officially announced the Baucus nomination.
Senator Jay Rockefeller (D-WV) is next in line, but he's also retiring in a year. And as a result, according to Politico, Rockefeller declined the chairmanship and our own Senator Ron Wyden has accepted. Wyden had previously been expected to ascend to the seat after the 2014 elections (assuming Democrats retain control.)
The Finance Committee takes the lead on the tax code, which gives it broad authority over many policy areas. After all, it's through the tax code that much gets accomplished -- including, famously, health care reform.
And that means that Wyden is headed for the catbird seat on two issues he really cares about -- tax reform and health care. In 2010, Wyden ran for re-election in part on simplifying the tax system, saying "All Americans should be able to complete their taxes in an hour or less on one piece of paper" by getting rid of most deduction, loopholes, credits, exemptions, etc.

This is really good news for Oregon. Here's hoping it becomes official soon.