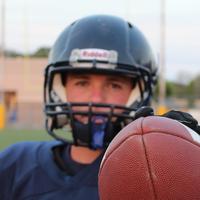 It's both easy and hard to believe, but in the history of college football, no active player has ever come out and stated publicly that they are gay.
That changed yesterday, right here in Oregon.
Conner Mertens -- a redshirt freshman kicker from Kennewick, Washington -- first told his coach, then his teammates, and then the world. OutSports.com has the story:
Mertens asked [head football coach Glen] Fowles if he was a good kicker. Fowles confirmed. He then asked if his role on the team would be affected by things he did off the field, or if he'd be judged by his performance. All that mattered to Fowles was whether he could kick that ball through those two goal posts. That was reassuring, Mertens said, because he had something very personal to share with his coach.

"I'm bisexual," Mertens told Fowles. "I like dudes. I have a boyfriend. And next week, I'm going to tell the world."
Why did Mertens want to take the big leap? Because he wanted to open doors back home for kids in the conservative Tri-Cities area.
Mertens was never the target of homophobia. He happily dated girls and never let on that he had a secret, yet inside he knew he also had an attraction to other boys. Despite being a successful football player, he feared losing his friends and teammates if he talked about his homosexual tendencies.

"I had a smile on my face all the time as a kid, but I was dying on the inside. In my hometown, you have to fit in or you'll be exiled. If somebody had come out that I looked up to in the town, I would have been a lot happier.

Mertens doesn't want any other youth in his hometown to ever feel the way he did, so he took matters into his own hands. Last night he tweeted a lengthy letter to his hometown in hopes of changing hearts and minds and giving local LGBT youth someone they can point to with pride.
So, how did the coach and the team react?
"Coach didn't blink an eye," Mertens said of his revelation. "He talked about how they don't build football players at Willamette, they build men, and that he was proud that I could tell him this about myself." ...

Late last week, Fowles had a meeting with 16 team leaders. ... "It was unwavering support," Fowles said. "They were supportive because he's one of their teammates. It was impressive. After that meeting I congratulated the coaches for recruiting good men. We've got something special here. I was so proud of those guys. If that's the future of young men in America, we've got a shot. It was awesome."

Kyle Shaver was in the meeting. The freshman outside linebacker has already been named to the team's leadership council, starting four games as a freshman and recording a sack last season. He was shocked by the news. Mertens was "the last guy you'd expect" to be anything but straight. That didn't stop him from fully embracing his teammate. ... "Conner's a Bearcat. Whether he's gay, bisexual or straight, he's one of us."

[At the full-team meeting:] One by one the players shared what was on their minds. Every one of the team members who spoke shared the same sentiment: Mertens is a member of the team, he has a bright future on the gridiron, and it just doesn't matter if he has a boyfriend or a girlfriend.
Congratulations, Conner. You've kicked down one more barrier. Clear eyes, full hearts, can't lose.